SoftOrbits Easy Photo Unblur 1.3 Silent
Easy Photo Unblur يعالج الصور الضبابية ويدقق فيها ويثبت اهتزاز الكاميرا والحركات الضبابية. تقوم خوارزميات البرنامج ذات الذكاء الاصطناعي بتحليل صورتك لإيجاد الأماكن الغير مركزة أو الضبابية، وتطبق إصلاحا ذكيا عوض عن توضيح الصورة بشكل مفرط.
المميزات الرئيسية :

يصلح الصور ذات التركيز الضعيف
يصحح الضبابية في الحركة
يصلح الصور المضببة بسبب اهتزاز الكاميرا
يقدم مؤثرات مصغرة وقزحية
يساعد على إصلاح مجموعة من الصور في دفعة واحدة
تعديلات مدمجة للتحكم بالسطوع والتباين وحرارة اللون والجاما أدوات للقطع والتدوير وتغيير حجم الصور.....
دعم كامل للغه العربيه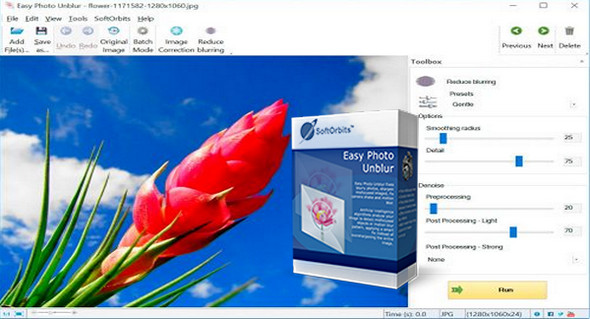 Fix Blurred Photos in Just a Click
Easy Photo Unblur fixes blurry photos, sharpen misfocused imaged, fix camera shake and motion blur. Artificial intelligence algorithms analyze your image to detect misfocused objects or motion blur pattern, applying a smart fix instead of oversharpening the entire image.
27 MB
SoftOrbits.Easy.Photo.Unblur.1.3
او
http://ban.damasgate.com/s8/srvs16/1/5/Sof...Unblur.1.3.zip
SoftOrbits.Easy.Photo.Unblur.1.3 _ Silent